CN expo
If I have to be honest, the most thing I was looking forward to was meeting William Shatner. Growing up I dressed up as Captain Kirk believing I was actually Captain Kirk! So I was really excited to meet him.
Another guest was James Callis who plays Baltar in the new Battlestar Gallactica series.
The bad news is I never got to meet Shatner but I did have a short conversation with Callis.
And then there were the amazing and enthusiastic fans. The autograph line did a loop around the entire section in the Dealers Room…going from the Funi booth all the way around. It was incredible!! Here's a video of the line:
It was great hanging out with Travis, Aaron, and Yuri Lowenthal. Those guys are great and I hope to attend more cons with them soon.
I went to Ranger dinner and had such a blast hanging with you guys! Thank you so much! I was completely blown away by all the lobve and kindness shown by you.
A big, BIG thank you to the Rangers for putting that together!!
Realms Con
I had no idea Corpus Christi is on the water…WOW! It is so beautiful there! It was fun to meet all the Rangers there and one particular Ranger was dressed as me! They were having a charity auction and they auctioned off myself and Tiffany Grant!
They had this huge Katamari contest…it was 6 foot in diameter. Who could make the biggest ball?
I went straight from Realms Con to Dallas to dress up as Captain Kirk for a training conference. A friend of mine was in charge of the entertainment and he asked me to play the part of Kirk in a few skits. You don't have to twist MY arm!!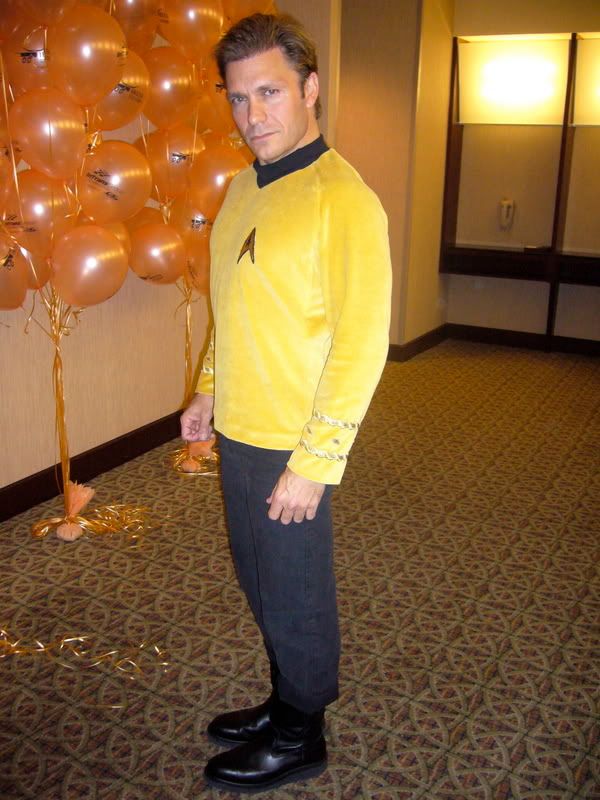 Anime Weekend Atlanta
AWA is without a doubt one of my favorite conventions to attend. Travis, Luci, Monica, and Mike Sinterniklaas were also there.
The first day we were there, the staff took us on a tour of cartoon network, and while walking to the studio, Travis and I were almost hit by a car!
They had a ball Friday night and I had a blast dancing with everybody! You guys can tear up the dance floor!
On Saturday I had so much fun at the Ranger dinner and all the kids sang Brothers for me….it was so sweet! Thank you guys! I lobve you!
I always get such a kick from seeing other characters I've done, I was so excited to see Gawl there!
Ani Magic
The convention has a very interesting layout. There is a courtyard in the middle of it with a pool so when I got up there to say hello something came over me and I thought I needed to head to the swimming pool. I got up on the stage and said "Welcome and glad to be here, you know I feel compelled to do something that is safe to say that has never happened at any other convention" and then I jumped off the stage, ran, and dove into the pool!!! Here's a picture of me after jumping into the pool:
Wonderful gifts I was given. And also one of the most precious ones I had was original production frames of the FMA movie. Like story boards. I am so humbled…THANK YOU!!!
How even though it was a really small con, it was wonderful to see so many rangers there
I saw a really great Al cosplayer and I put on his helmet. :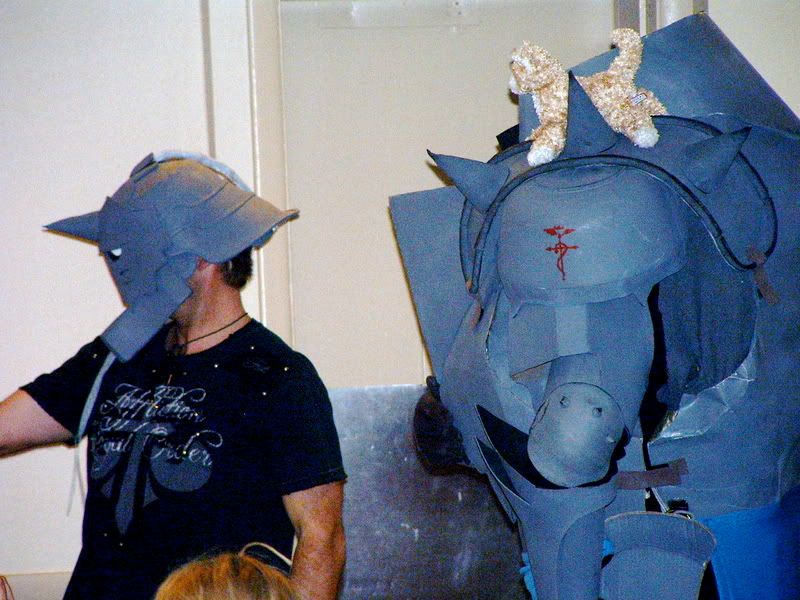 They scheduled a FMA movie showing and somebody thought it would be okay to put it in a room that only seated 60 people but there were three times that many people. We packed out the room. and at the most climatic part …15 minutes before the end movie and someone actually interrupted: anyone sitting on the floor had to leave because of fire codes. You have GOT to be kidding me?!?!?
Special thanks to the rangers who were there, it has become one of my favorite parts to be able to have the get-togethers and I love that.